A framed cover of Programming Perl showed up in my mail today. Our publisher, O'Reilly Media, has been doling these out to authors in the past couple of months. Tom got one about a week ago and I was slightly jealous, even though I already have one for Learning Perl. So what am I going to do with this one? I've signed the front glass, not wanting to disturb the very nice framing job, which also means that if you hate my signature, a little rubbing alcohol should remove that easily.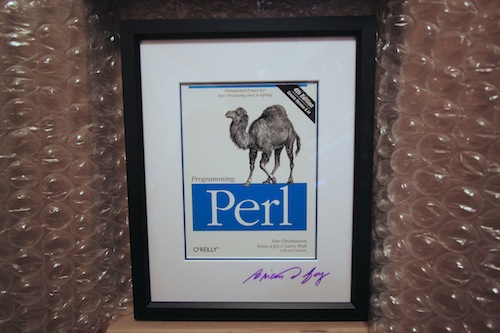 A framed book cover, with my signature
I've come up with some creative giveaways for the books, but I wonder what I should ask our readers to do for a chance to get the framed cover. It's not enough to simply put your name into a raffle. I wouldn't mind auctioning it on eBay, but that locks out the people who can't get an account. But, I want the recipient to give something to get something. So, this time, I'll let people decide what they'd like to exchange. You don't have to give something to me; maybe you fix a bug in perl, donate a bunch of stuff to your local hacker space, or something else that makes the universe a slightly better place. Leave a comment pointing to what you've done.
I still have some full books (cover and all the other pages) to give away too.