I have eight print copies of Programming Perl that I want to give away. You can beg explain on Twitter, using my handle @briandfoy_perl, why you think you should get one of these copies for free. If Twitter isn't your thing, you can enter the drawing by sending me a postcard from your hometown, using the contact info for The Perl Review. If you don't like postcards, you'll have to get creative. Maybe that means you post a picture of you with one of my other books somewhere. If you email me, though, you're likely to get lost in my inbox.
These books take up 17 inches of shelf space and my shelves are already tightly stuffed with many other Perl books. Two of these books are over seven pounds (that's all I could put on my postal scale without getting the error read-out). With over 1100 pages, I don't think I could get through all eight copies before the next one comes out (and I don't think I'd want to. I've read the chapter on pack too many times as it is). I have more copies than my nearest Barnes & Noble (I checked).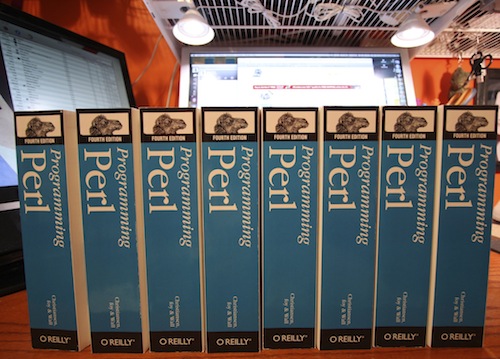 I don't have the space for these!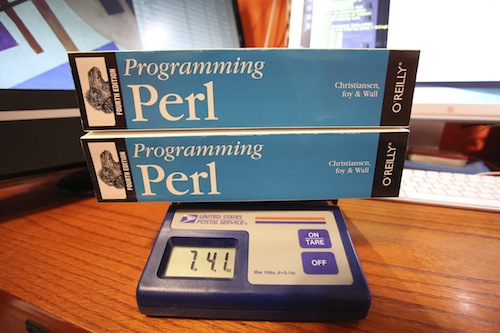 I can only put two of these on my postal scale if I want to get a reading
I'll ship it anywhere in the world that the US Postal Service will let me, although any customs duties are up to you. You can find out if you've won by checking this post where I'll post the winners and ask you to send me your postal address.