Just when I'd mailed off my last Programming Perl, O'Reilly sends me five more. I think I was suppose to get these before YAPC, but it's too late for that. Don't they realize these are big, heavy books? Now I have to figure out how to give away five of these. Although we are arranging for the second printing, having sold out the first, these are still the first printing.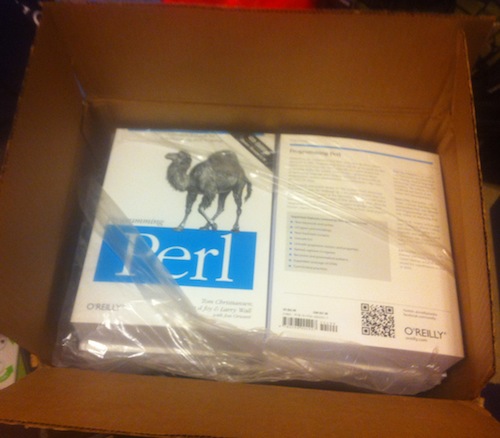 18 pounds of more books
To get these books, you're going to have to do more than send me a postcard. This time, you have to support a charity where I was recently elected to the Board of Directors. Fractured Atlas liberates the artists by doing the back office bits for them, including donor management, project insurance, health insurance, space rental assistance, and many other boring, non-arty bits. There's a lot of web programming involved in the tools that artists use, and a lot of tools to transform data in various ways. Make a $50 or higher donation to their general fund and send me your receipt (minus details I shouldn't see). I'll take everyone who does that before July 19th and randomly select five people to get a signed copy of the Camel, or pass them out for those who go bend my challenge. Even if you don't want a Camel, consider a gift that helps artists make our world better.
Recipients of my thanks
Demain, who supported The Debate Society with a monthly donation through Fractured Atlas.